Book Annette To Speak At Your Event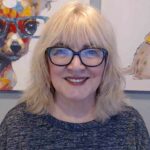 Annette is an engaging, enthusiastic speaker who wins audiences with her easy style and real-world advice. She specializes in personal branding with a focus on crafting a winning resume, creating a compelling LinkedIn profile, and building your brand through thought leadership and LinkedIn engagement.
Nationally recognized as an industry leader, Annette has been featured in numerous media outlets including:  Thrive Global, Medium, Monster, Vault, Business Insider, Forbes, The Glass Hammer, Job Hero, The Huffington Post, The Chicago Tribune, Every Woman, Work it Daily, D!gitalist Magazine, and The Wall Street Journal.
Annette's trademark is providing no-fluff, instructional presentations which provide information and actionable advice that attendees can implement immediately. In addition to delivering presentations,  Annette is available to participate on personal branding and other career-related panels.
UPCOMING SPEAKING EVENTS
Grow Your Personal Brand and Business With Content Creation Strategies, Ascend to New Heights, NRWA Annual Conference, Colorado Springs, CO, September 2023
RECENT SPEAKING EVENTS
Leveraging LinkedIn: Attracting Top Talent and Enhancing Your Company Brand, SOCTSHRM Summit & Law Symposium, August 2023
Marketing Yourself On LinkedIn: It's Easier Than You Think, Westchester Business Group, March 2023
Build Your Professional Brand On LinkedIn, Philadelphia Area Greater Careers Group, March 2022
Her presentations have been well received by a variety of audiences including:
KLM Networking
Northern Fairfield County Professionals
sfBIG, Digital Advertising and Technology Association
Senior Executive Round Table Networking Group
Fairfield University Alumni
Fairfield Network of Executive Women
Sacred Heart University Alumni
Fairfield University College2Corporate
Mondays@7 Networking Group
Hearst Media/Monster.com  Job Fairs
Platform to Employment, The Workplace
Dress for Success Women's Group
Annette was invited to speak to participants of Platform to Employment, The WorkPlace developed program for the long-term unemployed which was featured on 60 Minutes.
Looking for an informative, engaging speaker? Contact Annette about speaking annette@careerintelligenceresumewriting.com
---
Get my BEST updates delivered to your inbox.
Join my email list and get my favorite content regularly. BONUS: Evaluate the effectiveness of your LinkedIn profile with our LinkedIn Scorecard. Unsubscribe anytime.
---
Most Popular Presentations
Are you struggling to go beyond text-only posts on LinkedIn? Know you should be recording videos but haven't even uploaded your LinkedIn profile video yet? It's time to change that.
Learn how to create engaging content that will boost your visibility, attract potential clients, and enhance your standing as a thought leader on LinkedIn. It's easier than you think to produce appealing content that will help you stand out.
Key takeaways:
Recording videos without looking like you're being held hostage
Creating popular document posts, that drive engagement
Using images to drive traffic to your website, online program, etc.
Saving time by batching content and scheduling your posts
Adding whimsy and personality with Bitmojs
You already have a brand whether you know it or not. You might think of it as your reputation. While you can't control what people think you can influence it. An excellent way to ensure you convey the image you want is to build your brand on LinkedIn.
LinkedIn is your face to the business world. It's where many people meet meet you for the first time. It's the first place people go if your name is given as a referral.  So it's essential that your profile and activity communicate the right image.
During this LinkedIn training, Annette Richmond shares strategies she teaches her high-powered executive clients.
Key takeaways:
Why a Headline that Sells YOU is essential
LinkedIn profile Banners, YOUR free billboard
Crafting an About section that makes you memorable
Building a community through LinkedIn engagement
Developing a reputation as a Thought Leader
What gets you here, won't get you there is the truth when it comes to resumes. While some experience and a degree may be all you need early in your career, once you reach the executive level that won't cut it any longer. Few positions at the executive level, means the competition is tougher.
The key to attracting recruiters and employers is by demonstrating your value. That means focusing your accomplishments, achievements, and results.
During this resume training, Annette Richmond pulls back the curtain to show you some of the techniques she uses with her high-powered executive clients.
Key takeaways:
Connecting quickly with readers, and why you need to
Shifting your mindset from employment to marketing
Creating a modern, easy-to-scan design, infused with color
Ensuring your resume is ATS compatible
Mitigating the possibility of age discrimination