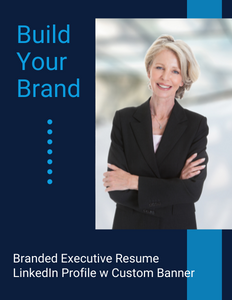 The advantages of a bold, branded resume and robust LinkedIn profile combined with customizable e-cover letters, and 90-days unlimited consultations via email.
Keyword optimized LinkedIn Profile written by a Certified LinkedIn profile writer and former recruiter who has sifted through hundreds of Profiles as a recruiter. A LinkedIn profile designed to help you be found by recruiters and hiring managers.
Customized LinkedIn background photo, designed to enhance your brand and set you apart from other professionals.
The 29-page guide to updating your LinkedIn Profile, to help you easily transfer your newly written information to your actual LinkedIn Profile.
Customizable thank you note/follow-up E-note, with suggestions on what to include to sell the employer.
90-Days Unlimited Career Consulting via Email. Makes it easy to get answers to your job search questions, like the value of  LinkedIn recommendations and how to network without a resume.
Plus…All components of our Great First Impression package listed below:
Personalized worksheets prepared by a 6X Certified Master Resume Writer designed to help you uncover your skills, achievements, and unique value you offer to hiring managers.
Achievement-based, branded resume written by a Certified Master Resume Writer, professional writer, and former recruiter. Someone who has trained with an award-winning resume writer and reviewed countless resumes as a recruiter. Your resume will be written in high-impact language, to showcase your achievements and highlight your skills.
Marketing You customizable cover e-note package includes Recruiter-targeted e-Note, designed to be sent with no specific position in mined; Job listing e-Note, when responding to a specific job listing, customizable for each position; and Exploratory e-Note, used to contact recruiters, hiring managers, and other referrals from your network.
Compare custom packages here.
$2,299.00Select options
---
Get my BEST updates delivered to your inbox.
Join my email list and get my favorite content regularly. BONUS: Evaluate the effectiveness of your LinkedIn profile with our LinkedIn Scorecard. Unsubscribe anytime.
---