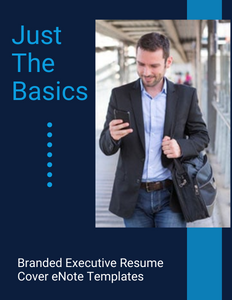 Great option for executives who need a bold, branded resume and robust, optimized LinkedIn profile. Those skilled at using LinkedIn to their best advantage and are confident in their job search abilities.
Personalized worksheets prepared by a Certified Advanced Resume Writer designed to help you uncover your skills, achievements, and unique value you offer to hiring managers.
An achievement-based, Branded Executive Resume written by a 6X Certified  Resume Writer, professional writer, and former recruiter. Someone who has trained with an award-winning resume writer and reviewed countless resumes as a recruiter. Your resume will be written in high-impact language, to showcase your achievements and highlight your skills.
Marketing You customizable cover e-note package includes Recruiter-targeted e-Note, designed to be sent with no specific position in mined; Job listing e-Note, when responding to a specific job listing, customizable for each position; and Exploratory e-Note, used to contact recruiters, hiring managers, and other referrals from your network.
Compare custom packages here.
$1,699.00Select options
---
Get my BEST updates delivered to your inbox.
Join my email list and get my favorite content regularly. BONUS: Evaluate the effectiveness of your LinkedIn profile with our LinkedIn Scorecard. Unsubscribe anytime.
---