MASTERCLASS
How to stop writing boring resumes that don't get results and start writing modern, resumes that include the achievements recruiters and employers want to see.
Top Resume Questions - Answered
Crafting a compelling executive resume that gets results isn't easy. Many executives and professionals turn to an executive resume writing service. They spend time researching who is the best executive resume writer.
Other professionals looking for an executive position decide to tackle executive resume writing themselves. When talking to a professional resume writer, these are some of the "how-to" questions people ask.
12 Often Asked Executive Resume Writing Questions
✔️What do employers look for in a resume?
Employers are looking for people to solve their problems. A hiring manager wants to know what you can do for them.
People in similar positions at similar companies do similar things. What differentiates candidates from one another is the impact they have had on their employer(s).
More specifically, a recruiter or hiring manager wants to see how you saved time, cut costs, improved productivity, generated revenue, etc.
✔️What's the difference between an objective statement and a resume summary?
A resume objective statement is a line at the top of the page that tells the employer what the job seeker is looking for in their next position.
For example: Seeking a position as marketing director where I can use my experience, skills, and talent to enhance brand awareness through innovative campaigns.
Summary statements replaced objective statements over a decade ago.
A resume summary is a few lines that tell an employer what you have to offer. It's essential to support whatever you claim in this "career snapshot" in the body of your resume.
✔️ How long should an executive resume be?
While there is no absolute rule on length, most executive resumes are two pages.
The rule of thumb on resume length is 1 to 1½ pages for new graduates and early careerists and two pages for everyone else.
To keep an executive resume to 2 pages, extensive information-publications, speaking engagements, fellowships, media mentions, etc.-can be included in an Addendum that is sent with the resume as needed.
C(hallenge) ⏩ A(ction) ⏩ R(esult)
When it comes to resumes content is KING. A boring list of duties and responsibilities won't entice a recruiter or employer to contact you. Employers want to know what you can do for them.
The best way to stand out from your competition is to include achievements on your resume. Use the simple Challenge, Action, Result (CAR) structure to show recruiters and employers what you have accomplished.
📍 CHALLENGES are the problems, issues, etc., you faced. They might be things you were hired to fix or struck you when you started in the position.
For example, declining sales or low morale or things that came up during your tenure like change in leadership or acquisition. Other examples are industry trends, unproductive teams, climbing costs, etc.
📍 ACTIONS are the things that were done. They might include redesigning processes, instituting new policies, improving products, reorganizing departments, developing marketing campaigns, managing client expectations, etc.
If you were leading or part of a team make sure to highlight your part in the team's success. For example, you did the initial research or got buy-in from the boss to move the project forward or you were the go-to person whenever anyone had a problem.
📍 RESULTS are what happened because of the actions. Perhaps processes were more efficient (saved time, cut costs), market share increased (enhance company presence or revenue generated), productivity improved (fewer staff, revenue generated).
Try to include metrics costs cut, time saved, revenue generated in terms of metrics. Metrics provide  evidence of change.—fluffy statements like "dramatically improved" sales do not.
Sales Resume Basic
This basic professionally written resume is easy-to-scan and demonstrates the candidate's value. The resume grabs the reader's attention by highlighting achievements and skills upfront.
Resume is results-driven, not task focused
Sections are clearly defined
Mix of bullets and short paragraphs
Color is used to infuse personality
No irrelevant information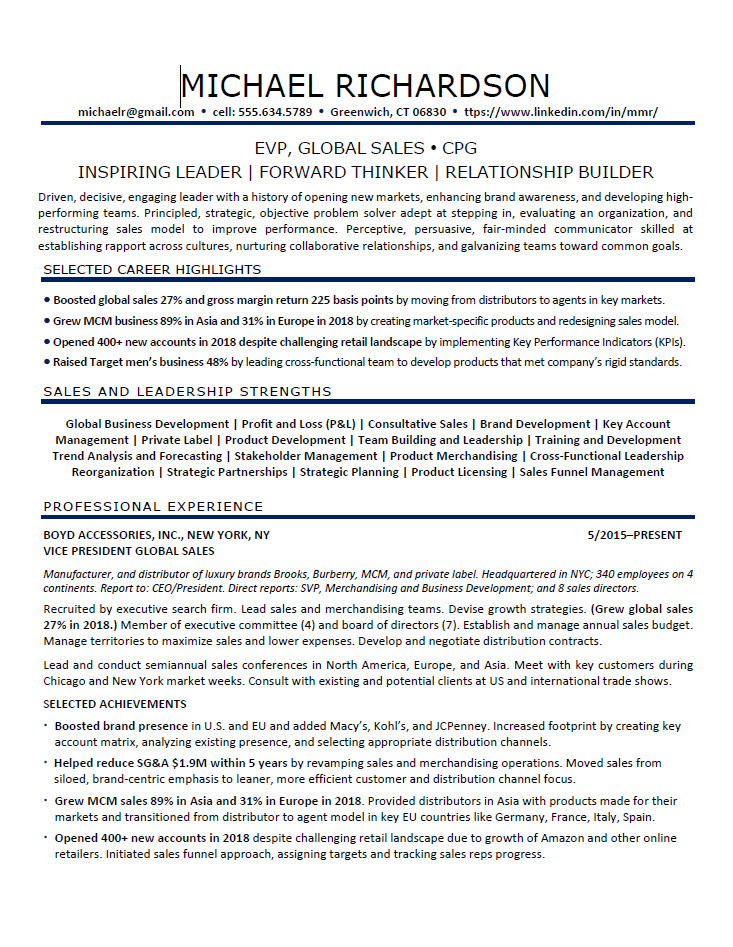 ---
Get my BEST updates delivered to your inbox.
Join my email list and get my favorite content regularly. BONUS: Evaluate the effectiveness of your LinkedIn profile with our LinkedIn Scorecard. Unsubscribe anytime.
---