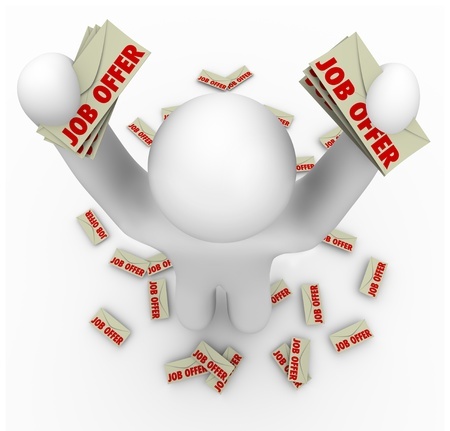 How To Choose Between Multiple Job Offers
Sometimes you'll have a lot of time to decide, sometimes not.
Whatever the circumstances, it will be easier to make that decision if you have some sort of decision-making process in place.
Here are 3 options you can try if you receive more than one job offer.
Pros and Cons
This is a long standing method that needs very little explanation. You make two columns listing the Pros on one side and the Cons on the other. If you're deciding between two jobs you'll have to do an assessment of each and then evaluate which one is more appealing.
While often used, making a list of Pros and Cons doesn't make comparing two job offers particularly easy.
Criteria Method
In my early days as a career counselor I was introduced to the criteria decision-making process. You begin by creating a list of criteria that's important to you. You may want to list these items in terms of importance. Most important first and down the line.
Once you have completed your criteria chart it's a matter of filling in the blanks. Here's an example.
| | | |
| --- | --- | --- |
| Criteria | Job #1 | Job #2 |
| Target Salary $175K | Salary $170K | Salary $185K |
| Professional Development / Tuition Reimbursement | Yes | No |
| Short Commute | Yes | No |
| Growth Opportunity | Yes | Yes |
| Extensive Travel | No | Yes |
| Culture Fit | Yes | Yes |
| Unused PTO Carryover | NO | Yes |
Looking at a chart like this should make it easier to make a tough decision. Depending on your career plans will the tuition reimbursement offered by employer #1 outweigh the higher salary offered by employer #2?
Only you can decide.
The beauty of this process however, is that you can decide in advance which criteria is most important to you.
Flip a Coin
While flipping a coin can't exactly be called a process, people do use this practice every day. I recall reading that flipping a coin actually does make sense because as soon as you toss it up in the air you know which side you hope it lands on.
If you are fortunate enough to receive multiple job offers look at is as a blessing not an obstacle. Make sure you have all the information you need and analyze it carefully. While the Criteria Method is my go-to when making a difficult decision, you need to choose the process that works for you.
Updated 8/7/18