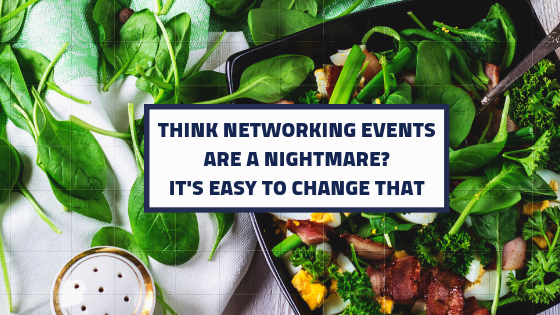 How To Take The Nightmare Out Of Networking
You've probably heard that many jobs aren't advertised. While stats indicating 70% to 80% of jobs are unadvertised are dated, most career professionals agree that the best way to land a job is through a referral.
While job board have their place, spending all your time applying to jobs online isn't practical. Neither is expecting recruiters to contact you, even if your LinkedIn profile and other social media platforms are stellar.
While LinkedIn is still favored by recruiters, its popularity has declined. In 2018 LinkedIn dropped to 77%, down from 92% the previous year, followed by Facebook at 63% according to Jobvite's 2018 Recruiter Nation Survey. Survey results show that 25% of recruiters are now sourcing candidates on Instagram.
Just remember, recruiters don't work for you, they work for the employer. They are online looking for candidates to fill specific positions. More precisely, they are looking for a square peg to fit into a square hole. If you are a round peg you're out of luck.
Applying to jobs online, being active on social media, and contacting recruiters should be part of your job search toolbox. But networking in real life is essential too.  
Most of the people I talk to hate networking. That's because they think of it as going into a room of strangers and asking people for help.
Wrong attitude.
Right attitude, go to events to meet people and think about how you can help them.
While walking into a room of strangers who seem to all be friends isn't easy for most of us. There are a few ways to make it easier, even fun.
Go to each event with an open mind and no expectations. Bring business cards, but don't give them to people unless they ask. Create your "own" business cards with contact info and a "blurb" about who you are. Make the most of your cards by including skills, specialties, etc. on the back.  
Feel more comfortable by acting as a host. Go up to people who are standing alone, they are probably praying someone will come over and talk to them. Remember it's easier to join groups of 3 or more than it is to join a twosome. If you see someone trying to join your group invite them in.
Prepare talking points in advance. Research the program, the speaker, and the sponsoring group for ideas. Avoid the typical, boring "what do you do?" conversations by creating list of few open-ended questions. Here are a few ideas:
#1 What brings you to this event?
#2 Where did you grow up? What did you like best about it?
#3 What do you like best about your job?
#4 Do you have a favorite movie? Or book? Who is your favorite character?
#5 What made you choose your career path?
#6 Do you have a favorite charity? What? Why?
#7 What's your favorite way to relax?
#8 If you're feeling really comfortable: What would surprise me most about you?
Don't miss hidden networking opportunities like your neighbor's open house or your partner's office get together. Events, where you'll be meeting people outside of your immediate circle, are the best places to meet new people. They are not the place to begin passing around business cards, just be open. 
Finally, go to events alone. It's the secret to networking success. If that's too terrifying, go with a friend but have drinks together and sit at different tables for dinner. Always remember, the person sitting or standing next to you at an event is likely as nervous as you are.