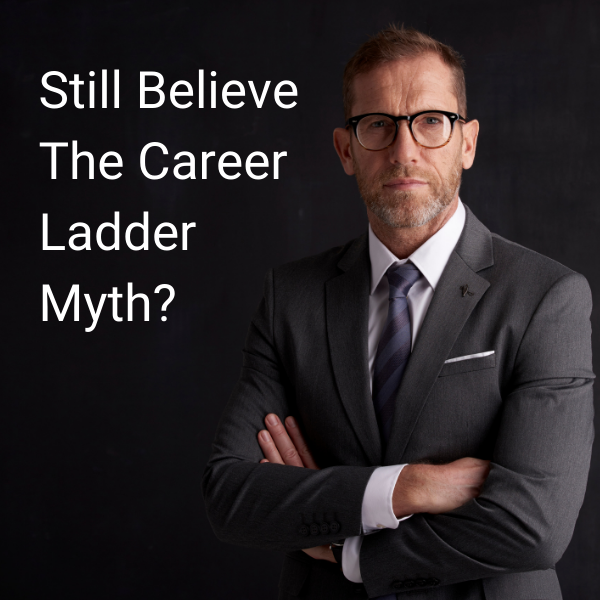 Executive Resume Not Getting Results? This Is Probably Why
You may get away with updating the resume you've had since college or hastily putting together a resume on your own early in your career. However, once you reach the executive level or are targeting senior executive roles, you need a results-driven executive resume that tells a powerful career story.
The Career Ladder Myth
Most people think of climbing a career ladder. But the career ladder is a myth. It's a career pyramid. Competition isn't as tough for early careerists or even mid-level managers because there are a lot of jobs at those levels. As you move into Director, VP, SVP, and the C-Suite roles, however, there are not as many jobs.
Don't think having 10+ years' experience in a senior executive role will impress an executive recruiter or potential employer.
It won't.
The right job title alone isn't enough. People in similar positions at similar companies, think a VP, Marketing with Nike, and VP Marketing with Adidas, do similar things. What differentiates them to someone conducting an executive search is the impact they've had on their employers. A recruiter or hiring manager reviewing your professional work experience wants to see the times you've cut costs, saved time, generated revenue, etc.
Achievements Are Essential
A great resume tells a compelling career story. It begins with an resume summary or career snapshot that provides an overview of what a job seeker brings. It highlights hard skills and professional work experience.
But what sets one potential candidate from another are their achievements. Providing metrics, like increased sales 35% or generated $35K, however, is not enough. Employers want to know how you did it. professional executive resume writer can take your career stories and turn them into bullets that convey your value.
Momentum Is Key
The reason recruiters and employers prefer reverse-chronological resumes that begin with your current role is because they show your career progression. But hiring managers know that some people move up because they've been with the business a certain amount of time. On the other hand, some people get promoted because of their achievements.
That's momentum.
Being recruited by a department manager because of your stellar work on an interdepartmental project shows forward momentum. If you've been recruited to a new organization by a competitor or former client, that shows forward movement too. An executive resume needs to emphasize instances like those.
Modern Resume Design
When it comes to resumes, CONTENT is KING. Even the jazziest resume won't generate job interviews unless the content demonstrates why you're the best qualified candidate. That said, a modern, easy-to-scan resume format is imperative.
A resume created by a good professional resume writer will be written in a sans serif font, like Calibri, have margins no smaller than .5, and include a mix of short paragraphs and bullets.
According to studies done by Ladders, recruiters decide on a candidate in less than 10 seconds. If you don't get a talent acquisition professionals' attention quickly, they move on.
When I was a recruiter, I spent longer than 10 seconds reviewing resumes, but it's important to remember that recruiters are not working for you.
A corporate recruiter is working for their employer. Likewise, a contingency recruiter, who is paid when they place a candidate, and a retained recruiter, who is paid in advance, are working for the employer as well.
Both are looking for a qualified candidate who can solve the employer's problems. Which is why it's critical to have a resume that focuses on results. According to Salary.com, a strong achievement-based resume can help you get a higher starting salary too.
If your resume isn't persuading anyone to contact you, most likely it's because your resume is a boring list of responsibilities and duties that reads like a reverse engineered job description. The way to get the attention of a recruiter or potential employer is by demonstrating the impact you've made on your employers.
Learn what to look for in an executive resume writer here.