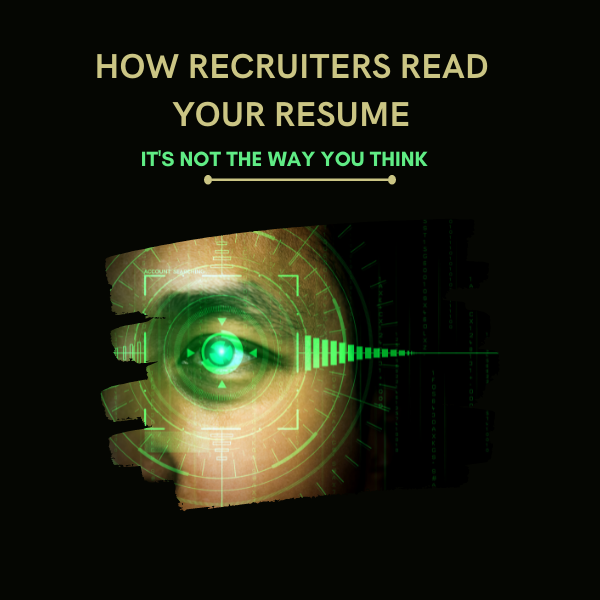 How Recruiters Review Your Resume (It's Not How You Think)
Just as resumes that don't generate results have the same problems, resumes that resonate with recruiters and employers share commonalities. Effective resumes immediately grab the reader's attention. They demonstrate what sets that candidate apart from the competition.
Many people think that recruiters begin by reading a resume from top to bottom.
However,  the results of a 2012 Ladders study proved that in most cases, they don't.
The Ladders had recruiters review resumes while wearing eye-scanning goggles. The main talking point, or buzz, from that study, was that recruiters spent less than 6 seconds reviewing each resume before deciding if they would interview the candidate or not.
2018 Recruiter Study
In 2018, Ladders repeated the study. This time the initial screen clocking was 7.4 seconds.
When I worked as a recruiter, I spent longer reviewing each resume. However, it's important to remember that recruiters are busy. Contingency or 3rd party recruiters only get paid when the candidate they submit is hired. While corporate recruiters are salaried, they are trying to fill multiple positions.
Not surprisingly, the results show that recruiters scan resumes rather than read them. They review the name and contact information. They look at the job titles and dates of employment. They scan the professional experience looking for keywords.
Make Your Resume Scannable
Based on the study results, an easy-to-scan resume format that draws the reader's eye down is essential. That means layouts with clearly marked sections, title headers, and simple fonts.
Important Elements
Reader-friendly, sans serif fonts like Calibri and Ariel, rather than serif fonts like Times New Roman
Sections that are clearly defined with lines and/or shading (yes, color is OK)
Short 3–4-line paragraphs followed by achievements or results in bulleted form
Bold used strategically, particularly on job titles, which are particularly relevant to recruiters
Plenty of white space, margins no less than 0.5", space between sections, etc.
Demonstrate Your Value
If your resume passes the initial scan test, recruiters and hiring managers will be evaluating the value you bring. They don't want to see vague statements like dramatically increased revenue. They want to see results in terms of metrics AND how you achieved them.
They want to see what resume writers, like me, refer to as STORY.
A simple way to develop your stories is using the CAR formula. That translates to Challenge, Action, Result OR Beginning, Middle, End.
Think about your positions over the last 10 to 15 years. What were the challenges? What did you do to resolve problems, improve situations, etc.? What were the results—revenue generated, costs cut, time saved, etc.—in metrics?
But, again, the numbers aren't enough. If you're a sales executive, are you building your team by advertising on job boards or recruiting rock stars from your competition? Hint: proactive is better.
Writing a resume isn't easy. It takes time to review, evaluate, and synthesize your career. But it will be worth the effort. Because a resume that gets demonstrates your value is the one that gets results.