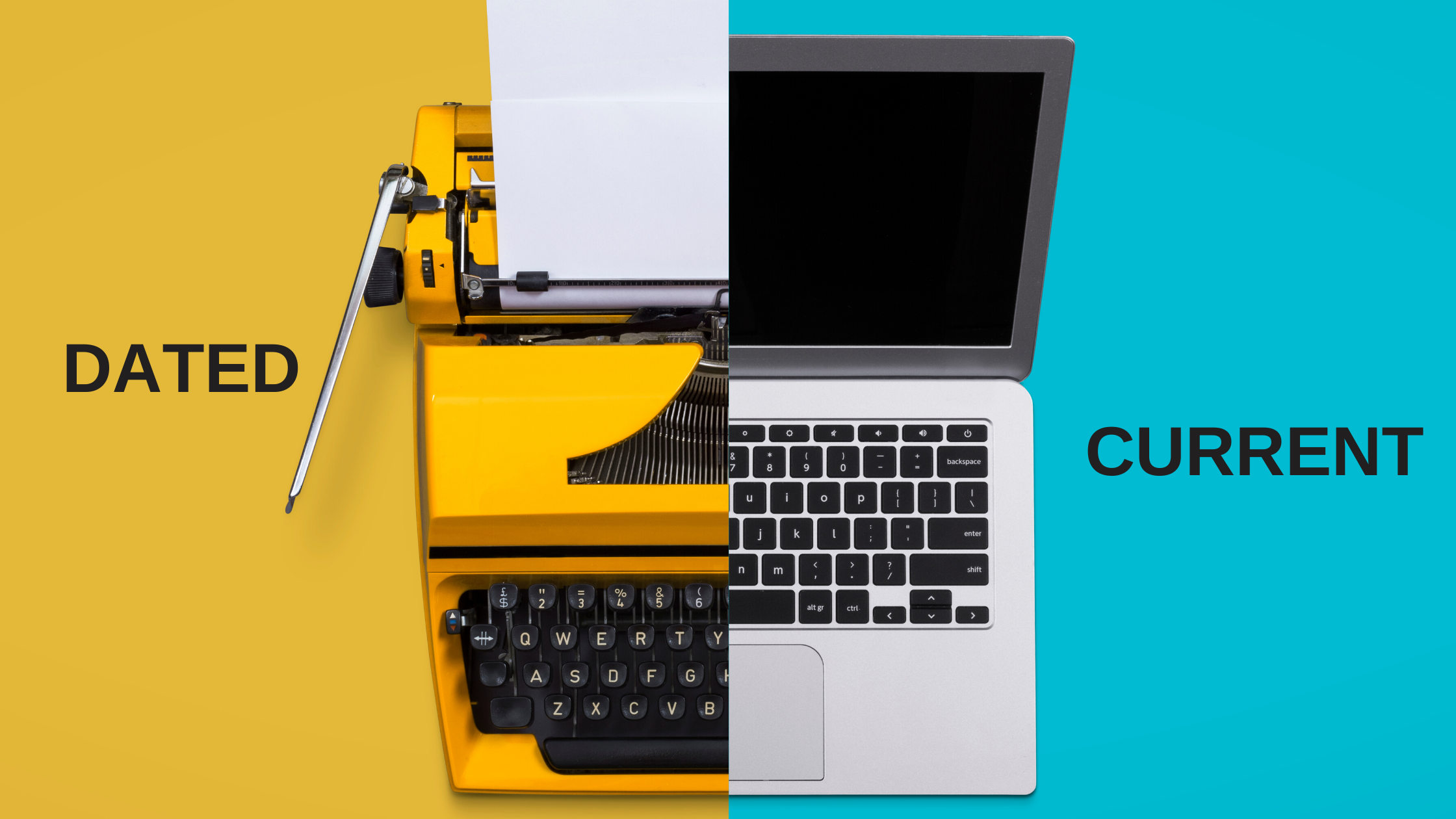 How To Prevent Screaming "I'm Old" During Your Job Search
Resume writers are often asked about the prevalence of age discrimination. As I've mentioned in earlier posts, serious concerns begin around age 55, but some people, particularly my female friends, tell me they begin to feel it in their mid-forties.
Yes, age discrimination is out there. But there are many other reasons why candidates don't get hired.
The interviewer may think you are too young or too forward-thinking or too laid back. She may dislike you because you remind her of a former boss or spouse she doesn't like.
We all have conscious and unconscious biases.
You can't control other people's bias, but you can eliminate things that make you look old and/or dated.  Here are 5 things to change today.
#1 Have a Modern Email
Using an @aol or @yahoo email address makes you look like you're stuck in 1995. Keep those addresses for family and friends but choose something more current like @gmail for your job search. Never use your company's email to contact recruiters, resume writers, career coaches, etc.
Many employers monitor employee email accounts, and they have the legal right to do so.
Include your email address in LinkedIn About section to make it easy for recruiters and employers to contact you. If your job search is confidential you can include a statement like "always interested in connecting with like-minded people" or "always happy to connect with clients and colleagues" as well.
If you're unemployed, you can include a pitch for hiring you.
#2 Include a LinkedIn Photo
Many people resist uploading a headshot because they're afraid of age discrimination. However, the benefits far outweigh any potential risks.  LinkedIn's own research shows that profiles with a photo get 21X more views and 9X more connection requests.
A 2018 CareerBuilder survey found 70% of employers research candidates on social networking sites and 47% say that they're unlikely to contact a candidate for an interview if they can't find them online.
As a former recruiter, I know that profiles that show up in search results without photos raise red flags. The first thing people think is "what are they hiding?"
The second thought is "are they so out of step they don't realize they need a photo?
Choose a photo that looks like you. It can be tempting to use an old photo or a recent one heavily photo-shopped. Don't.
Of course, we all want to look our best. But it's important that people to recognize you in person.
#3 Upload a Background Photo Too
When LinkedIn updated its user interface, they added space behind the profile photo for a background photo. When people don't upload a photo their profile shows a generic blue box.
Not having a photo makes your profile, and by extension, you, look generic. Also, and maybe worse, it makes you look unaware. Neither is an image you want to convey.
Finding a photo isn't difficult. You can use a photo you've taken or purchase one from a stock photo site.
#4 Create a Strong LinkedIn Profile
Unfortunately, many LinkedIn members don't make their profile work for them. Some LinkedIn profiles have boring About sections written in the 3rd person. Some have About sections and even Professional Experience sections that advertise their employer.
When recruiters, employers, or people you meet at networking events visit your LinkedIn profile, they want to learn about you, not your employer. Give them some insight into who you are. Why do you do what you do? What gets you excited at work or makes you proud? Why did you choose your career in the first place?
 #5 Update Your Appearance
If you haven't updated your look in 5 years, now's the time. This doesn't mean trying to look younger, but wearing a suit, hairstyle, or eyewear that's a decade old is going to make you look old too.
When choosing your outfit for an in-person or video interview keep the size of the company and its geographic location in mind.
A 2019 Accountemps survey found managers at companies with 250 or more employees expected candidates to wear a suit, while managers at companies with less than 100 staff were more flexible.
Most managers in Miami, New York City, and Washington D.C. said candidates should always wear a suit to job interviews. However, managers in Austin and Seattle said suits weren't essential as long as the candidate looked professional.
Don't begin your job search expecting age discrimination. I'll never forget 1 client I worked with as a recruiter. I never asked her age, but she mentioned during one conversation that she was in her 60s.
While I didn't place her, she was one of our client's top candidates. And she soon found a job through another recruiter.
Her LinkedIn profile photo reflected the vivacious, engaging woman I spoke with over the phone. Being of a certain age didn't stop her. It doesn't have to stop you either.