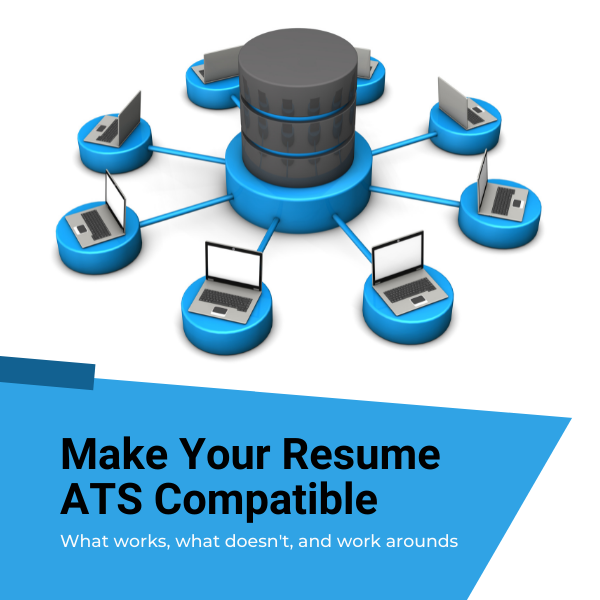 How To Write Your Resume So It Won't Get Lost In ATS Systems
All career professionals, particularly resume writers like me, say that you need to focus on your achievements. The best way to stand out from your competition is to demonstrate your value to employers. That's true.
But even the most compelling resume won't get you far if it's not compatible with ATS (applicant tracking software system). Because important content, like your name and email address, may not be seen by recruiters and employers.
ATS Don'ts
While ATS systems are getting smarter all the time, and some are better at reading documents than others, your resume should be formatted to be read by most of them. Here are a few things to avoid.
Headers and Footers
Many ATS systems don't read heads and footers, yet I still see resumes with the person's name and contact information in the header. Headers are a suitable place to put your name and the page number. Footers on the second page are an excellent place to put your name and contact information if the printed pages are somehow separated.
Columns
A lot of people use columns to keep their skills list in order. However, some ATS don't read columns, and those that do can render the information inaccurately. A better way is to list and center skills like this:
Organizational Development | Business Development | Diversity and Inclusion (D&I) | Executive Presentations | Relationship Building | Continuous Process Improvement | Efficiency Improvement | Leadership Development | Budget Allocation and Oversight | Organizational Vision | Change Management | Strategic Direction | Project Management | Team Building and Leadership
Word Art
While word art is an effective way to highlight numbers, indicate change, etc. For example, overlaying a text box with 23% Increase over an up-arrow graphic. Unfortunately, ATS systems can't read that information.
Charts and Graphs
Charts provide wonderful visuals. If you've increased sales each quarter or improved customer satisfaction and employee morale, a column chart graph will instantly convey your achievements to recruiters and employers. Except ATS systems don't read charts or graphs either.
ATS Work Arounds
Many resume writers, including me, use word art, logos, and charts and graphs, etc., on their client's resumes. You can use them too. The key to making them work is by turning those elements into images, which the ATS system doesn't see, and include the information in the image in the body of your resume.
Achievements shown visually in a chart, for example, can be included in a bullet, bullets, or short paragraph next to the image.
ATS Do's
Despite what you may hear or read, using color on your resume will not make your resume ATS incompatible. There are several ATS-friendly ways to make your resume stand out.
Shading
Add shading to sections, like a skills or professional development section, to draw the reader's eye
Bold
Bold a line or a few words, like increased sales 23% by opening mass merchant market, for emphasis
Color
Using color for  lines, bullets, and fonts can add some personality and make your resume stand out.
ATS Friendly Test
A simple, free way to check your resume for ATS compatibility is by copying and pasting the content in your word document (charts, graphs, etc., and all) and pasting it into a plain text document. What you see in the plain text document is what even the most unsophisticated ATS systems will see.
To see my video example, click here
Content is the undisputed KING when it comes to resumes. Even the snazziest design won't help a resume that reads like a reverse-engineered job description. However, a modern design tastefully infused with color will make a robust, achievement-based resume stand out.
For "how to" resume writing videos, webinars, and more subscribe to our YouTube channel.