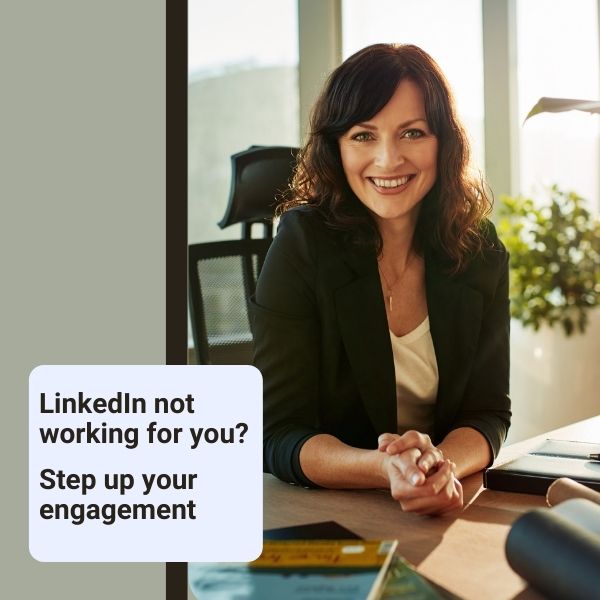 Six Tips To Help Increase Your Engagement On LinkedIn, Find A Job, And Advance Your Career
LinkedIn is your face to the business world. It's often the place recruiters looking for candidates will meet you. It's the place recruiters and employers who are impressed with your resume will go to learn more about you. While LinkedIn is considered a business platform, it's important to remember that it's also a social network. Like many things, you'll get as much out of LinkedIn as you put into it.
Creating a compelling profile is a start. However, if you want to find a new job or advance your career, you need to build engagement on LinkedIn. If you haven't been active for a while — or ever — here's how to make the most of available features and create an engagement plan.
Media Features
LinkedIn has audio and video features that you can use to introduce yourself to profile visitors. If you don't already have LinkedIn's mobile app, you'll need to download it to use them.
Craft a Cover Story
LinkedIn's Cover Story feature is a 30-second video that you can use to share information — who you are, what you do, how to contact you, etc. — that works for your current situation. To create the video, you may want to use Apple Clips; it's a free IOS app available in the Apple store. You can record, edit and add captions all in the app. I love Clips, but there are many other options for androids and iPhones. Once you've uploaded your Cover Story, a few seconds of your video will pop up from behind your headshot whenever someone clicks on your profile. An orange circle around someone's headshot indicates that they have uploaded a video.
Include Name Pronunciation
This 10-second audio clip allows members to share the correct pronunciation of their names. However, some people use this to share a greeting or a bit about them, which may or may not include music. Once you've recorded your message, an audio icon will appear next to your name.
Engagement And Strategy
It's important to have an engagement plan and strategy that you can commit to long-term because being active every day for two weeks and then going into hibernation isn't a good thing.
Take Baby Steps
Most people think being active on LinkedIn is about sharing status updates or posting articles, but the truth is that most of the engagement happens in the comments and messages. Follow people in your industry that you'd like to know. Particularly those who you'd like to know you. Start by spending 15 minutes three times a week reading, liking and commenting on people's posts. Work up to 15 to 20 minutes a day while you're having morning coffee or watching the news. Leave thoughtful comments. If you think it's a great post, let them know why. If you've learned something, tell them what.
Increase Your Engagement
Once you're comfortable with commenting on other people's posts, start creating your own. Share your thoughts on a timely article or an industry trend in a status update. LinkedIn likes people to stay on the platform, so share links to articles or posts you mention in a comment rather than in your post. Post about events or conferences you're attending. Review books you've read. Share your thoughts on industry trends. Subscribing to a content aggregator will help you save hours online looking for content to comment on or share. I use Feedly. They have free and paid subscriptions, but there are many others aggregates too, including All Top, Google News, etc.
Stick To A Schedule
Many LinkedIn "experts" say you need to post every day. I disagree. However, it is important to be consistent. Decide on a schedule you can commit to regularly. When you feel ready, start by posting once a week, then increase that to two to three times a week. Remember, it's better to post once a week every week than every day for a month and then nothing.
Experiment With Formats
Consistency is essential when it comes to posting. Consistency in your content can become tiresome. If you always share a text post, try sharing a graphic. Many people, like me, use Canva because it has templates for a variety of platforms and is easy to use.
LinkedIn is one of the most powerful tools for job search and career advancement. However, a compelling profile will only take you so far. To get the most out of LinkedIn, you need to stop thinking of other users as potential connections and start thinking of them as people you'd like to know.
This post originally appeared on Forbes on September 8, 2021.