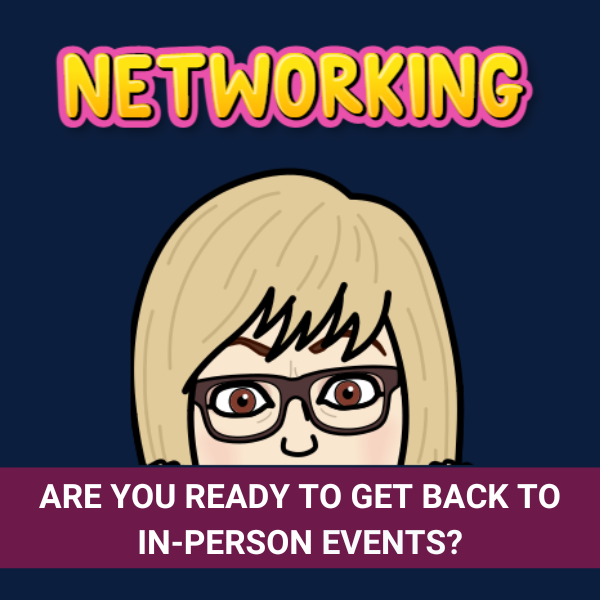 Successfully Navigate Your Next Networking Event (Even If You Dread Them)
After two years of virtual everything, in-person events are back. I'm headed to 2 holiday networking events this week. It's the first time I'll be going to a local industry event in over two years. I'm excited and a bit nervous.
Most people I talk to say they hate networking events. They feel awkward and uncomfortable. They are tired of boring conversations. And they feel like they never met anyone anyway.
If that's you, I'm going to help you change that right now.
CHANGE YOUR ATTITUDE
Let's start with attitude. A lot of people don't like networking because they think of it as transactional. They are going to an event to ask people for help.
Wrong attitude.
A better attitude, go to events to meet people, and think about how you can help them.
While walking into a room of strangers who seem to all be friends isn't easy for most of us. There are many ways to make it easier, even fun.
RESEARCH BEFORE YOU GO
One of the worst things about networking events is the typical boring conversation that starts with, "Hi, what do you do?"
The best way to avoid these exchanges is to prepare talking points in advance. Research the program, the speaker, and the sponsoring group for ideas. Take a quick peek at the local news and/or local events page.
Have a list of "icebreaker" questions ready. Here are a few open-ended questions to consider.
🔹 What brings you to this event?
🔹 What do you think of the speaker?
🔹 What do you like best about your job?
🔹 Where did you grow up? What did you like best about it?
🔹 What made you choose your career path?
🔹 What's your favorite movie? Or book? Who is your favorite character?
🔹 Tell me about your business? Or company?
🔹 Do you have a favorite charity? What? Why?
🔹 What's your favorite way to relax?
🔹 If you're feeling really comfortable: What would surprise me most about you?
EASY WAYS TO START CONVERSATIONS
Even if you're comfortable talking to strangers, walking into a room full of them can be intimidating. The truth is while it seems like everyone is having a great time, many of them feel as awkward as you do.
When scanning the room, evaluate the dynamics. Since many people go to events with a friend, two people talking may be having a deep or even personal, discussion. A party of 3, who are less likely to know each other will probably be having a more general discussion that you can join.
 Still, the easiest way to meet people if you're shy is to rescue someone else. Walk up to someone who is standing alone, feverishly hoping someone will talk to them, and say hi.
One way to get over the fear of talking to strangers is to strike up a conversation at the grocery store or while waiting in line at a concession stand.
Much to my husband's embarrassment, I talk to strangers all the time. I met someone who knew several members of the Hamilton cast while waiting in line during the show's intermission that way. Someone I'll never see again, but what a lovely memory.
A FEW THINGS TO REMEMBER
 🔹 If you enjoy the spotlight, make sure you don't dominate the conversation. Ask others to share their views and invite people who are standing on the periphery to join the discussion.
🔹 If speaking up makes you uncomfortable, respond to or build on someone else's comment or ask a relevant question.
🔹 Don't scan the room while you're talking to people. It makes them feel like you're looking for someone better.
🔹 Make sure know how to say goodbye gracefully when it's time to move on.
SINGLE BEST WAY TO MEET PEOPLE
People who are uncomfortable going to networking events often go with a friend. While the buddy system is great for kids at camp, it's not the best strategy for networking events. If you really want to talk to new people, go alone.
When you go with a friend, you're likely to hang out with your friend and go home wondering why you didn't meet anyone. That doesn't mean you should avoid talking to people you know. Just make it a point to chat with some new ones.
If going alone is too scary, make a pact that you will each spend some time mingling on your own. Since many networking events include dinner and a speaker, maybe you have a cocktail together when you arrive and sit at different tables for dinner.
Make sure you have a way to stay connected with the interesting people you meet.
EVERY EVENT IS A NETWORKING OPPORTUNITY
Don't miss hidden networking opportunities like your neighbor's open house or your partner's office picnic. Events, where you'll be meeting people outside of your immediate circle are some of the best places to meet new people.
👉 One final thought, people talk about success being a matter of who you know. The truth is, it's who knows you.
This post originally appeared on my Smarter Career Moves LinkedIn Newsletter.