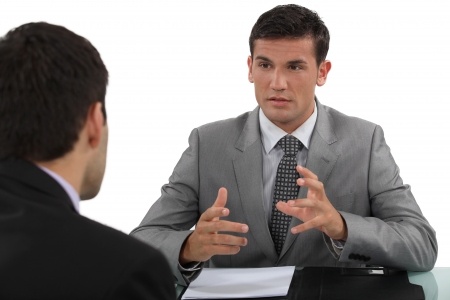 10 Questions To Ask During An Informational Interview
Lots of jobs sound great. You may think you know what a position entails by reading a job description on sites like the Occupational Outlook Handbook or advertisements for open positions on job boards or company sites.
Truth is, you probably don't.
For years I wanted to be a writer. I went to school nights and worked days pursuing my dream. When I graduated I found a job as an assistant editor of a national four-color trade magazine. I was in heaven.
Turns out, I did get to do a lot of writing. I worked for a boss who was also a mentor. She taught me how to be a professional writer. I got to do cool things like work with the photographer during shoots for the magazine cover. I also got to type the shipping labels for the products when it came time to return them to the manufacturers. One at a time. On a typewriter.
While I loved that job, it was hardly as glamorous as I thought it would be. You may find that about your dream job too.
That's where informational interviews come in. The opportunity to sit down and ask questions of someone who is already doing the job you aspire to can be incredibly valuable.
Create a target list. This may be people in certain positions. It may be narrowed down to people who hold a position at particular companies or in certain industries.
Make a list of the people you already know who you can talk with. Then ask everyone you know who they know that can help you. Besides friends and family, contact your college or university alumni group. Then use your imagination.
Just make sure you prepare in advance, so you don't waste his or her time, or yours. Here are 10 questions to get you started.
How long have you been in this position?
What attracted you to this job?
Can you describe your typical day's activities?
What do you enjoy the most about your work? What do enjoy the least?
What is the most challenging part of this work?
What training or education do I need for this position?
What are the salary ranges for a position at my level?
How did you get your job?
Looking back, would you still choose this profession? Why? What would you do differently?
Who else should I speak to?
Of course these questions are only a place to begin. Tailor them to your experience and industry. For example, if you are at a manager's level your questions will be different than if you are a new grad. Always remember that an informational interview is just that. It's your chance to gather information to help you choose a career or evaluate possible target positions. Asking for information is fine, asking for a job crosses the line.
Informational interviews should be part of your job-search strategy. They are your opportunity to get the "inside scoop" from someone already on the job. They can provide some valuable insights into a company's, or even an industry's, culture.
While it's bad form to ask those you interview for a job, conducting informational interviews is a great way to build your network. Be sure to say thank you and follow up. If an opening does become available you may be at the top of the list.