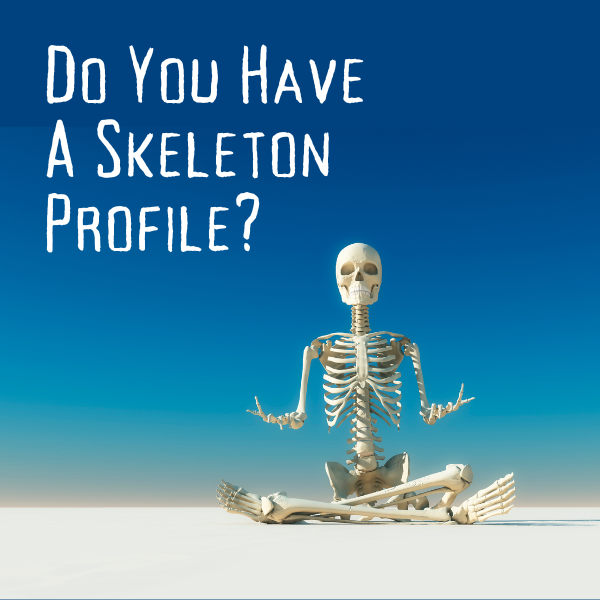 Do You Have A Skeleton LinkedIn Profile? (How's That Working For You?)
𝗗𝗼 𝘆𝗼𝘂 𝗵𝗮𝘃𝗲 𝗮 𝘀𝗸𝗲𝗹𝗲𝘁𝗼𝗻 𝗟𝗶𝗻𝗸𝗲𝗱𝗜𝗻 𝗽𝗿𝗼𝗳𝗶𝗹𝗲? 𝗜'𝗺 𝗮𝗹𝘄𝗮𝘆𝘀 𝘀𝘂𝗿𝗽𝗿𝗶𝘀𝗲𝗱 𝗮𝘁 𝘁𝗵𝗲 𝗻𝘂𝗺𝗯𝗲𝗿 𝗼𝗳 𝗽𝗲𝗼𝗽𝗹𝗲 𝘄𝗵𝗼 𝗱𝗼.
Skeleton profiles are not only filled with missed opportunities to sell yourself to employers or potential clients. They make you look unsavvy. And who wants to hire someone who's unsavvy?
Robust profiles tell people what you do AND why you do it. On the other hand, Skeleton profiles provide company names, job titles, and little else.
𝗦𝗞𝗘𝗟𝗘𝗧𝗢𝗡 𝗣𝗥𝗢𝗙𝗜𝗟𝗘
🔹 Headline – LinkedIn's "default" headline, which is your current position
🔹 About section – A few lines that provide little information might even focus on your employer instead of you.
🔹 Experience – Job titles, maybe a few lines about what you did for your employers or clients.
𝗥𝗢𝗕𝗨𝗦𝗧 𝗣𝗥𝗢𝗙𝗜𝗟𝗘
🔹 Headline – Focuses on what you can do for employers
🔹 About section – Tells a bit of your career story, what drew you to your career, what you love, and maybe a few career highlights.
🔹 Experience – Focuses on the impact you've had on your employers or clients, maybe includes a bit about things you learned.
🔹Headshot – Set to Anyone so it will be seen by people on and off LinkedIn.
👉 FYI, 𝗟𝗶𝗻𝗸𝗲𝗱𝗜𝗻 𝗽𝗿𝗼𝘃𝗶𝗱𝗲𝘀 𝟰 𝘀𝗲𝘁𝘁𝗶𝗻𝗴 𝗼𝗽𝘁𝗶𝗼𝗻𝘀 𝗳𝗼𝗿 𝘆𝗼𝘂𝗿 𝗛𝗲𝗮𝗱𝘀𝗵𝗼𝘁
🔹 1st-degree connections only – so potential clients, recruiters, etc., who aren't connected to you won't be able to see it
🔹 Your network – Only people connected up to 3 degrees can see it – again, you may not be seen by potential clients, recruiters, etc.
🔹 All LinkedIn members – Only members when they are signed in to the platform
🔹 Anyone – everyone on or off LinkedIn
Unless you're not on LinkedIn to be seen by others, make sure your Headshot is set to "Anyone"
If you're wondering why LinkedIn isn't working for you. It might be because instead of having a compelling Robust profile that makes people want to contact you, you have a barely there Skeleton profile that attracts no one.