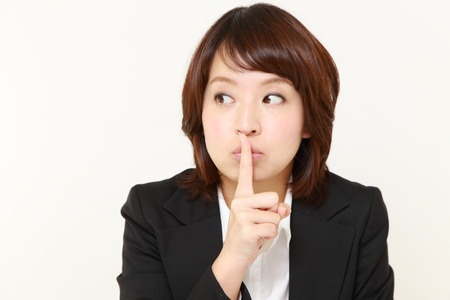 3 Ways To Keep Your Job Search A Secret
One of the good things about being unemployed is that you have plenty of time to look for a job. One of the bad things is that being unemployed makes you less attractive to some employers. While it may not be fair, many employers prefer to hire candidates who are already employed.
But looking for a job while working full-time has its own set of obstacles. Because looking for a new opportunity is a job in itself, one challenge is finding enough time. But, perhaps the biggest problem is making sure your boss doesn't find out. But there are ways to keep your job search a secret.
Dress A Little Better
If you're in looking for a new opportunity while gainfully employed it's likely you'll be either sneaking to interviews during your lunch hour or scheduling them for right after work. Unfortunately, when you work in a super casual office, wearing your "going to an interview" outfit is sure to raise some red flags.
The easiest way to avoid this is to upgrade your wardrobe at least one month before starting a job search. Begin by switching casual slacks for your standard jeans once or twice a week. Bring a tailored jacket occasionally, even if you don't wear it most of the day. If you do this consistently no one will bat an eye when you come to work dressed for a job interview.
Don't Attract Attention On LinkedIn
Besides coming to the office in "job interview" attire, a sure signal that you're looking for a new opportunity is a flurry of activity on your LinkedIn profile. If you're like most people your LinkedIn profile has been dormant for months, maybe even years. Now that you're looking it's time to add those missing jobs and fill out the job descriptions. You might even get around to that Summary Section you've been meaning to write.
While updating your LinkedIn profile is a good thing, it's essential to keep those posts under the radar. So before you do anything, go to your "Privacy & Settings" page and "Turn off your activity broadcasts" under "Privacy Controls."
Keep Your Job Search Quiet
It bears repeating that you should NEVER use your company computer during your job search. Today, most employers monitor their employee's activities, including reviewing their email accounts and checking their computers. You don't want to be called into the boss's office after he's finished reading your emails to recruiters or discovered you've been researching resume writers by reviewing your search history.
It's also critical to be careful who you tell. Even your strongest supporter may mistakenly let your secret slip. Or they may share it in confidence with someone else, who shares it with someone else, etc. Before you know it everyone is aware that you're looking for a new position. Also, think carefully about what you spill on social media. You never know who will see those posts complaining about your job or excitedly sharing about your recent job interview.
If you're employed be grateful. Not only do you have a job, but you are more attractive to many potential employers as well. One of the keys to a successful job search is to keep things confidential until you have another offer. However, by taking a few steps to keep things quiet you can help ensure your boss won't find out until you tell her you're leaving.
If you'd like to work with Annette Richmond, a certified resume writer, LinkedIn Profile writer, and career consultant, please schedule an introductory call to discuss your needs.   You will be able to access Annette's calendar to choose a day and time that works for you.