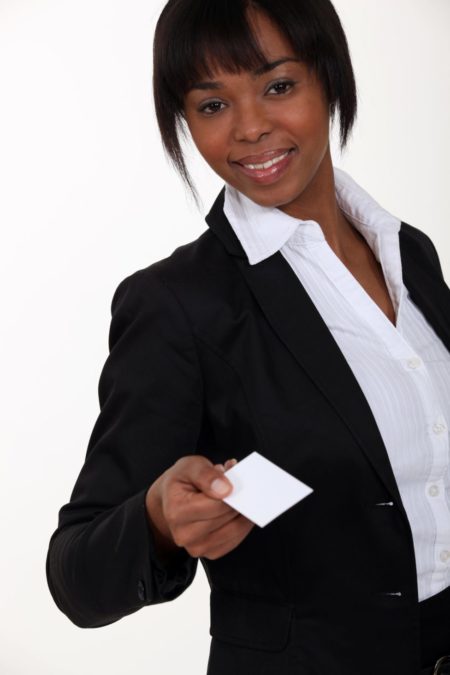 Why Business Cards Belong In Your Job-Search Toolbox
Whenever I speak to a group of job seekers the first question I ask is "How many of you have a resume?" Almost every hand goes up. Great. The second question is "How many of you have a business card?" Only a few hands go up. Not so great.
Unfortunately, many job seekers, don't realize that when used correctly business cards can be an important marketing tool. When used incorrectly, not so much.
About a year ago, I attended a networking event sponsored by my local SHRM. Most of the attendees were in human resources. Not surprisingly, there were many job seekers there as well.  Smart move. There's no better place to meet people working in HR than at an HR event.
When I arrived, I spent some time chatting with a recently laid-off woman who was looking for a position in HR. As we said goodbye, I asked her for her business card. She said since she was out of work she didn't have a "business card" per se. She then proceeded to apologetically hand me a card for the small jewelry business she was running on the side. Obviously, it had nothing to do with her job-search objectives.
Big mistake.
If you're unemployed, or even if you're not, it's a good idea to have business cards. Business cards are essential for networking events and job fairs. First, you need to provide a way for people to contact you. Second, you need to have a way for them to remember you. Finally, if you're currently employed you need to give people a way to contact you outside of your office.
A business card doesn't need to be expensive or flashy. A simple card with your name, title, and contact information are the only essentials. If you're not working your title can be your target title. For example, Public Relations Director or Inside Sales Professional.
If you're targeting more than one position you might put Sales | Marketing | Business Development. In this case, just make sure that they are complimentary. You wouldn't want to put Business Development | Event Planning | Public Relations.
A blurb about what you do will help people remember you. For example, you might say "Streamlining processes to help companies eliminate inefficiencies" or "Helping mid-sized companies grow their business internationally." In addition to helping people remember you, it provides a hint of your value proposition. What you can do for them.
To provide a broader picture you might want to include a few core strengths on the back of your card. For example you might include Strategic Planning, Process Redesign, Employee Engagement, etc. Remember these should be the skills you want to use in your next position.
Avoid perforated cards you print on your computer. Just like a poorly written resume, cheap cards show that you're not willing to invest in your career. An online search will provide plenty of sources for inexpensive, professionally printed business cards.
The next time you head out to a networking event or job fair make sure to bring plenty of business cards. But, don't stop there. Tuck a few into your bag or wallet so you'll have a few with you all the time. You never know who you will run into at the grocery store.