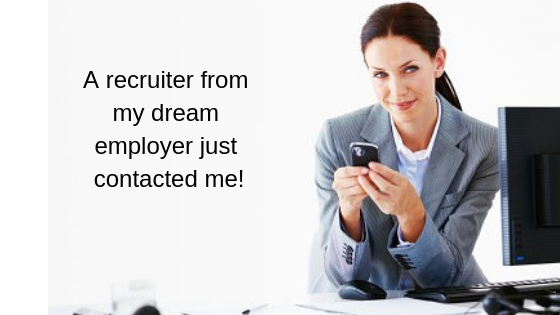 How To Increase Your Chances That Recruiters Will Contact You
If you've been looking for a new job for more than 5 minutes, you've heard that you need to target employers. Most often, the advice is to develop a list of target employers, i.e. the employers you would most like to work for. Then, find a way to network your way in.
This strategy is recommended for a few reasons.
First, the best way to hear about jobs is by regularly checking the career section of your target's website and/or knowing someone who works there. As a former recruiter, I can say that the only reason that businesses don't post open positions is when the person doesn't know they are being replaced.
Second, a resume given directly to someone at a company is more effective than responding to an ad on a job board. This can also be incredibly helpful if done after you respond to an online ad.
FYI, if a recruiter contacts you about an open position where you have a connection be sure to mention it. They may ask you to reach out to your connection to help grease the wheels.
Finally, if you can talk (honestly) about what attracted you to the employer it will help during the interview process. Employers want to know you are excited about working with them, not just looking for a job.
Last August, LinkedIn began prompting you to turn on job alerts to be notified when one of the companies you were following posted a new job. Thus, giving you an edge over, at least some of, your competition.
Now LinkedIn has upped your chances of being contacted by recruiters with your target employers by telling them that you're interested. According to LinkedIn, "when you set a job alert, we'll let recruiters at that company know you are interested in opportunities to help your chances of hearing from them."
Based on the comments from recruiters and my personal experience, recruiters are more likely to contact someone who is already interested, also known as a "warm lead," than to contact someone who may not be receptive. So, if you aren't already following your dream employers on LinkedIn, now is the time to start.
For additional ways to connect with your target employers click here.