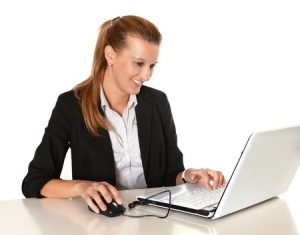 How To Make A Great Impression During A Phone Or Skype Interview
The goal of every job seeker is to get in front of a potential employer. To have the opportunity to sit down and sell yourself to the hiring manager. However, you're probably going to have to navigate two to three virtual interviews before you're invited in for a face-to-face.
Today the interview process usually begins with a 20 to 30 minute phone screening either with a third-party recruiter or a human resources associate. The goal is to learn more about you.
Until the first "meeting" you're just another resume and/or LinkedIn profile.
Most often the interviewer is trying to learn your salary requirements, your availability, and your ability to "talk the talk" of your profession. They also are gauging how smart and enthusiastic you are.
You don't need to be brilliant, but you do need to carry on an intelligent conversation. If you don't impress the recruiter or HR associate, it's unlikely you'll move on to the hiring manager.
If you make it through the initial screening interview, you'll probably be scheduled for a more in-depth phone conversation or, in some cases, an interview via Skype.
Don't discount the value of a virtual interview, how you conduct yourself will directly affect whether or not you move forward in the hiring process. Make sure you take time to prepare before the interview as well.
During the Interview
1) Whether you're on phone or video, begin by trying to connect with the recruiter or HR associate you're meeting with. When you want to sound friendly it helps to smile. Your voice actually changes when you do smile making you sound happier even if you're not. Ask a friend to talk to you while she is smiling and while she isn't you should be able to hear the difference.
If you're chatting via Skype make sure that you dress for the interview just as you would for an in-person meeting. Watch your voice. If you speak in a normal tone you may come off flat but you don't want to be overly animated either. Also, be careful about fidgeting. Twirling your hair or playing with a bracelet or looking out the window will be more noticeable during a video conversation.
2) Be excited about the company and the position. If you don't convey your enthusiasm during the virtual interview you may not make it to the next round. Standing up and walking around while you're on the phone will add some energy to your voice. Be natural. If you use your hands to express yourself in person try to do that when you're on the phone as well.
If you're chatting via Skype be sure to look into the camera not at the interviewer's face on the screen. Also, be aware of your demeanor. When we're listening to someone we often have a blank expression on our face. However during a video interview this may come across as a frown. Keep a slight smile on your face to avoid this.
3) Be sure to pay attention to what the interviewer is saying. It's easy to fall into the habit of formulating an answer while the other person is still speaking. But, if you do you may miss something important. Listen to the complete question before deciding how to respond. If you don't understand something say so.
4) Have stories ready to illustrate your accomplishments. Try to quantify the results with numbers or percentages. You may want to have notes and a copy of your resume on hand. Knowing the notes are available to job your memory may help you relax. If you have an online portfolio keep it open so that it will be easy to refer to if necessary.
5) Jot down anything that the interviewer says that might be helpful going forward. This might include: duties that are not mentioned in the job description; skills or traits they are looking for in a candidate; or any problems that the hiring manager needs to be solved. Use your notes to reinforce your qualifications for the job when you send a thank you note.
Just be careful, if you take too many notes during a Skype interview you may appear distracted. Never type on your computer during an interview as sound carries.
Bonus: A Few More Tips for Skype
Make sure the light is shining on your face rather than behind you to avoid looking like a silhouette.
Remember, the camera adds pounds, lean in to look thin.
Have a professional looking profile photo and Skype handle.
Turn off notifications on your computer and close other software programs.
Choose your clothing carefully. Think TV anchor not Rock Start. Try to avoid black or white.
After the Call
Don't discount the value of a virtual interview, even if it's an initial 20-miniute chat with a recruiter. Always follow up with a thank-you email after the call. Making a good impression during the phone or Skype interview will help move you forward to an in-person meeting.
If you'd like to work with Annette Richmond, a certified resume writer, LinkedIn Profile writer, and career consultant, please schedule an introductory call to discuss your needs.   You will be able to access Annette's calendar to choose a day and time that works for you.