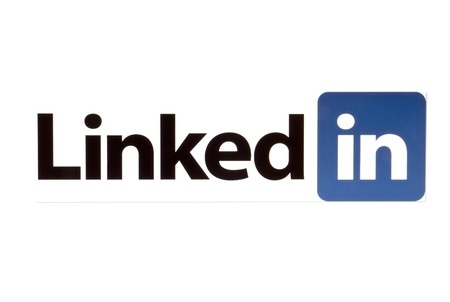 Tell Recruiters You're Looking (Without Your Boss Finding Out)
While being employed makes you more appealing to employers, looking for a new job while working full-time can be challenging. Perhaps the biggest challenge is keeping your job search a secret from your boss.
There's a new LinkedIn program that can help with that.
LinkedIn recently introduced a new program for job seekers that makes looking for a job on LinkedIn easier. With this new program, you can alert recruiters that you're open to new opportunities without broadcasting it to the world.
This new program takes only a few minutes to set up on your LinkedIn account.
The bonus is it's free.
To begin go to Settings & Privacy, scroll down to Job Seeking Preferences, and turn on Let recruiters know you're open to opportunities. 
Once you turn on Job Alerts LinkedIn directs you to your Career Interests page where you can set preferences for:
Location (bonus you can add more than one)
Level of experience (from entry to executive level)
Industry (again, allows more than one)
Size of company (small, mid-sized, large)
Type of opportunity (full-time or contract)
Job titles or roles that interest you
Here's a peek at what that looks like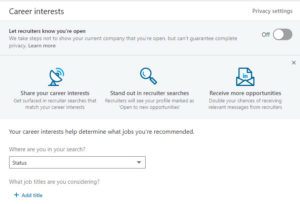 Additionally, you're able to set your profile so that job posters are able to see your entire profile when you apply for jobs.
LinkedIn will share your interests with recruiters for 90 days, at which point your selections will reset. LinkedIn notes that this is to keep your information relevant and up-to-date.
Regarding privacy, while LinkedIn states that they cannot guarantee your privacy only recruiters who use LinkedIn's Recruiter will have access to your preferences and interest information.
LinkedIn protects job seekers through the use of  unique company identifiers. If a recruiter's "Company ID" is the same as the "Company ID" of your current employer on your LinkedIn profile that recruiter shouldn't see your "career interest preferences." Still there is no guarantee of privacy.
Of course, this new program makes it easier for recruiters to source candidates as well. Getting a "head's up" that people are open to new opportunities takes the fear out of making unwelcome overtures to potential candidates who aren't interested.
So if you're actively looking or just open to hearing about new opportunities, take a few minutes to set your preferences today.
Updated 2/13/19