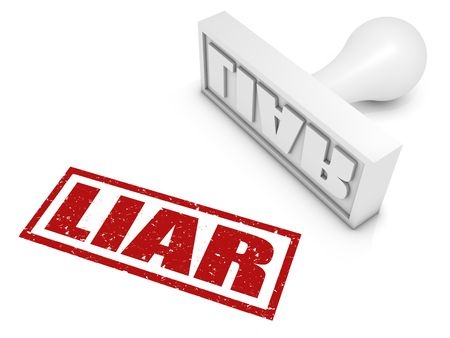 Think A Little White Lie Won't Matter? Don't.
Many people embellish the truth a little on their resume. Most common is when candidates "clump" all of the jobs at a single company under their current and, probably, highest position.
A reputable resume writer will warn his or her clients not to do this. However, it happens all the time.
If you're considering exaggerating on your resume. Don't.
Getting caught in a little white lie will likely put you out of the running.
The majority of employers said that discovering a lie on a candidate's resume might derail his or her chances of being hired according to survey conducted by CareerBuilder.
In fact, most employers (51 percent) said that they would automatically drop a candidate if they caught a lie on his or her resume while a slightly lesser number (40 percent) said it would depend on what they lied about. A small number (7 percent) indicated that they would overlook a lie if they liked the candidate.
"Trust is very important in professional relationships, and by lying on your resume, you breach that trust from the very outset," said Rosemary Haefner, vice president of human resources at CareerBuilder. "If you want to enhance your resume, it's better to focus on playing up tangible examples from your actual experience. Your resume doesn't necessarily have to be the perfect fit for an organization, but it needs to be relevant and accurate."
The more competitive the job market, the more likely it is that candidates will lie on their resumes. In this 2014 CareerBuilder survey, the majority of respondents (57 percent) said that they had caught a candidate in a lie. Fully, one-third (33 percent) noted that they've seen an increased number of lies on resumes since the 2008 recession.
The most common lies that employers find on resumes are:
Embellished skill set – 57 percent
Embellished responsibilities – 55 percent
Dates of employment – 42 percent
Job title – 34 percent
Academic degree – 33 percent
Companies worked for – 26 percent
Accolades/awards – 18 percent
While employers have find embellishments on resumes in all industries and at all employment levels, the industries where employers catch the most lies are:
Financial Services – 73 percent
Leisure and Hospitality – 71 percent
Information Technology – 63 percent
Health Care (More than 50 employees) – 63 percent
Retail – 59 percent
If you've been exaggerating on your resume, stop. Employers reported that they are spending more time reviewing resumes. Almost half (42 percent) of survey respondents said that they spend more than two minutes reading each resume.
Most employers (86 percent) say they typically have more than one person review candidates' resumes, with 65 percent saying resumes are reviewed by two or three people and 21 percent saying resumes are reviewed by four or more employees before a hiring decision is made.
While most resume lies are things like exaggerating skills or job responsibilities, some statements on resumes are truly surprising. A few of the most unusual lies employers have caught on resumes are:
Applicant included job experience that was actually his father's. Both father and son had the same name (one was Sr., one was Jr.).
Applicant claimed to be the assistant to the prime minister of a foreign country that doesn't have a prime minister.
Applicant claimed to have been a construction supervisor. The interviewer learned the bulk of his experience was in the completion of a doghouse some years prior.
Applicant listed three jobs over the past several years. Upon contacting the employers, the interviewer learned that the applicant had worked at one for two days, another for one day, and not at all for the third.
Applicant applied to a position with a company who had just terminated him. He listed the company under previous employment and indicated on his resume that he had quit.
Applicant applied twice for the same position and provided different work history on each application.
For more details visit CareerBuilder.