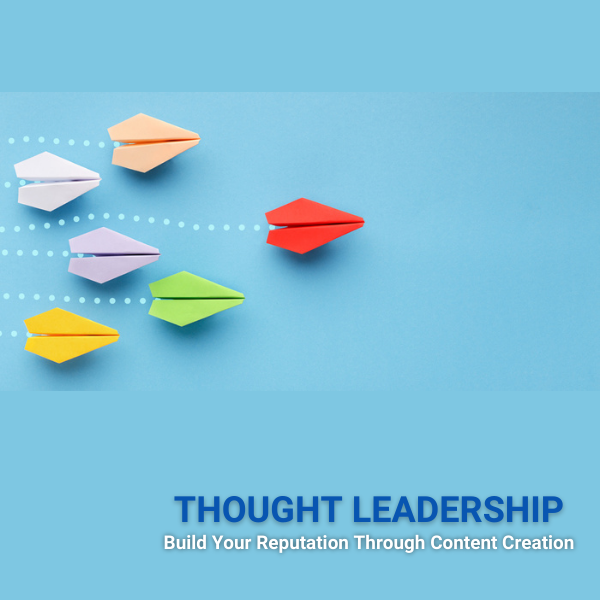 Unlock Thought Leadership: A Guide To Content Creation On LinkedIn
If you want to differentiate yourself from the millions of others on LinkedIn, developing a reputation as a thought leader should be one of your strategies. If you're new to LinkedIn or just new to the idea of engaging with other members, the easiest way to begin is by commenting on other people's posts.
Engagement doesn't mean scrolling madly through your feed, adding comments like "great post!" or "Love it!" That's people who race around networking events, handing their business cards to every stranger because they just lost their job. Not a good look.
When people like me talk about "commenting," they mean sharing at least 5-6 words that indicate you at least read the post. Sharing a few lines about why you liked the post is better. Providing insights that add to the conversation is better still.
Once you've got your footing, it's time to begin creating and sharing content.
LinkedIn supports several options based on your purpose and comfort zone.
There are several content options. LinkedIn supports a variety of content that you can use based on your purpose and comfort zone. Text posts can be short or long, depending on the time you want to spend. Articles like this, sometimes referred to as long-form posts, are used to delve more deeply into a topic.
TEXT ONLY POSTS
If you're new to creating content, text posts are a relatively easy way to begin. Text posts can be short or long, depending on the message you want to share and the time you want to spend.
Since LinkedIn increased the supported character count to 3000, many content creators use text posts like short blogs. Avoid heavy blocks of text. Instead, opt for single sentences or 2–3-line paragraphs.
You can add personality by inserting a few emojis. But be aware that a cluster of emojis makes it cumbersome for those reading your post with a screen reader.
Just because LinkedIn allows for longer text posts doesn't mean you can't post shorter content. The most important thing is conveying your message. There's no need to write a long post if a few lines or a couple of short paragraphs will do it.
SINGLE IMAGES
Many things can be shared with a single image. An interesting statistic, a quick tip, or a quote can be engaging. Avoid using images you download from the internet, as most are subject to copyright laws.
There are many royalty-free sites where you can purchase images, often with quotes, etc. You can also create custom images on platforms like Canva, which offers free and paid subscriptions.
Many people create images using inspirational quotes, like "Be The Change You Wish To See In The World," attributed to Gandhi. I used to do that too.
Now, I promote myself by creating images using my own quotes. You might want to do that
VIDEO CONTENT
While some reports suggest that sliders or carousels get the most engagement on LinkedIn, video remains the best way to move the know, like, and trust factor forward with your audience, which is why I regret avoiding video for years.
Most consumers (73%) would rather watch a short video than read a text post (11%) about a product or service, according to The State of Video Marketing 2022 by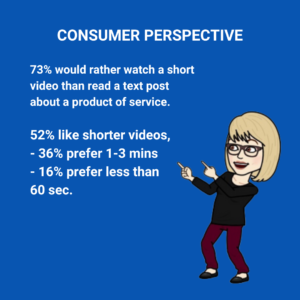 Wyzowl.
The majority (52%) like shorter videos too. According to HubSpot, 36% prefer 1-3 minute videos, and 16% prefer less than 60 seconds.
If you decide to create videos, it's essential to add captions. First, captions allow the deaf, hard of hearing, and people for whom English is a second language to access your content. Second, most people scroll LinkedIn with the sound off.
While you can record, edit, and caption videos on your desktop or phone, I create most of mine on my phone. Many FREE apps, including Clips (iPhone) and CapCut (iPhone and Android), allow you to record, edit, and caption.
Native video (video uploaded to LinkedIn), which plays in your feed, is more likely to stop members scrolling the platform. While LinkedIn supports various video formats, I've found that square works best for me.
SLIDERS / CAROUSELS
Sliders or carousels seem to be the current engagement darlings on LinkedIn. Sliders are posts with a series of images, generally with text, that users can view by clicking on an arrow button. Many content creators use these to inform and entertain.
Like other content, these can be created on platforms like Canva, which provides templates you can modify to suit your needs. If you use Canva, make sure to download your project as a PDF which can be uploaded to LinkedIn.
While LinkedIn began beta testing native Carousels, created on LinkedIn, a few months ago, the rollout seems to have stalled.
NEW FEATURE LINKEDIN SCHEDULING
LinkedIn recently introduced a new feature that allows users to schedule posts to send later. I was excited to have access a few days after hearing about the rollout.
If you have access, you will see a little "clock" on the bottom right when you click on Create a post. Using the feature, I've found that:
🔹 You can schedule multiple posts
🔹 You can schedule Text, Video, and Carousels (PDF format)
🔹 You can review your scheduled posts
🔹 You can change the posting time, but you cannot edit the post
🔹 You can schedule several weeks of posts. The calendar goes 3 months out.
GOING FORWARD
Whether you're in corporate or an entrepreneur like me, building a reputation as a thought leader on LinkedIn is a great way to enhance your personal brand.
If you haven't been active on LinkedIn, I hope you will begin creating and sharing your content. If you've been creating content for a while, try using a new format. I just started creating Sliders or Carousels myself.
Although LinkedIn is a business platform, it's still considered social media. So be social. Engaging with other members by commenting on their posts will boost your visibility. It makes spending time on LinkedIn more fun too.
This article originally appeared in my LinkedIn Smarter Career Moves newsletter. You'll find the newsletter in the Featured section of my LinkedIn profile.