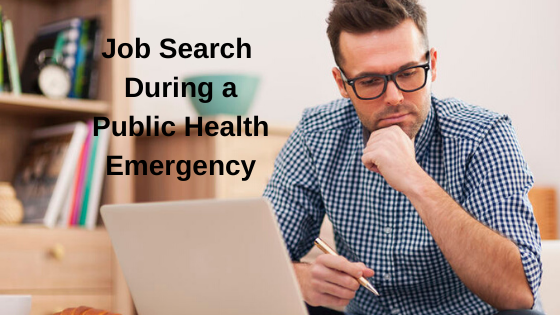 How To Look For A Job During The Coronavirus Outbreak
Concerns about the Coronavirus are growing daily. It dominates the news and kitchen-table conversations. Here in Connecticut, events are being postponed or cancelled, some because of a State of Connecticut mandate.
If you're looking for a new job or want to be prepared in case you need to, you'll need to adjust your job search strategies.
Several months ago, I created a basic job search plan. I've adapted it here to be used during our current public health emergency.
The plan includes job search preparation (PREP) and continuing activities (ONGOING). If you're actively looking, as in you really want to find a job, follow A activities. If you're passively looking, you're open but not in any hurry, P is for you.
#1 Target Employers
PREP – Good news you can do this from home. Create a list of 10 or so Target Employers, these are your dream companies, places where you would love to work. Set up Google alerts for each of them so you'll know when they are in the news.
ONGOING
Monitor the career pages on their company sites. A = 2-3X a week. P = 1X a week.
Contact friends, family, colleagues, etc. by phone or email to see who they might know who works for one of your target employers. Your college or university alumni association may be able to help with this too.  A = 2-3X hours a week. P= 1 hour a week.
#2 Job Boards
PREP – While job boards are not the most effective way to find a job, they should be part of every job search. Choose a few that work for you, if you're in a niche industry look for a job board that focuses on that area.
ONGOING
A = 1-2 hours a day. P = 1-2 hours a week.
#3 Networking
PREP –Networking is the most effective, yet underutilized, job search tool. Unfortunately, due to health concerns and event cancellations this will be more challenging. You can research and develop a list of industry associations and see which ones have local chapters. While many will not be having meetings right now, you will be ready when events begin again.
Be aware that while some conferences are being cancelled  others are going virtual.   A British startup is fast-tracking a platform that lets users watch and interact with events virtually.
In the meantime, email, Facebook face time, or pick up the phone to catch up with people you normally see at networking events.
ONGOING
A= 3X week. P = 1X week.
NOTE: Whether you're looking or not networking should be a part of your life. While health officials say avoid shaking hands, you can chat with the person behind you at the grocery store.
#4 LinkedIn
PREP – Make sure your LinkedIn profile is optimized for recruiter search and reader ready. Yes, you want to be found by recruiters sourcing jobs online. But an employer who likes your resume or someone who gets your name from a friend will be checking you out online.
Now's the time to make sure essential LinkedIn sections, like that About section you've been meaning to write, are working for you.  Upload a head shot and background photo. (I suggest getting your head shot analyzed at photofeeler.com). Be sure to include contact information in your About section as well.
Set your profile so that recruiters will know you're looking. Watch my video How to Use LinkedIn's Privacy Setting in Your Job Search  to see how. While there is no guarantee your company will not find out, LinkedIn says "We take steps not to show you current company that you're open."
Finally, make sure you stay active on LinkedIn. Activity will keep you top of mind with your connections and help build your professional brand.
ONGOING
Post status updates which can include industry articles, news items, anything you think would be of interest to your connections.
A=2-3X week. P=1X week.
If your goal is to position yourself as a thought leader, articles are the way to go. Bonus: they give you and other people something to share.
#5 Interview Practice
PREP – Start bey creating a list of the most common interview questions: Why do you want to leave or why did you leave your current position? Why do you want to work here? Why should we hire you? Do you have any questions? (No, is not the right answer here.)
Many employers will begin with "tell me about you" this doesn't mean begin with your 1st job, it means give me a little background that will make me want to hire you. (There are tons of articles on top questions online.)
ONGOING
Write out and practice your answers to these questions. Tell your stories as Beginning => Middle => End based on the format Challenge => Action => Result.
Partner with someone and grade each other. Record your answers and review them. Some platforms, like Zoom, have free memberships that allow you to record sessions. Make sure you review the restrictions/limitations when you sign up.
Remember your answers should always focus on what you can do for the employer NOT what they can do for you.
#6 Adjust Your Expectations
While I don't have a crystal ball, my experience as a recruiter tells me that things are going to move slower. As company's encourage their employees to work from home, it will probably take longer for employers to respond to online applications. It will probably take employers longer to get back to recruiters who present you as a candidate.
Be patient but do follow up.
Over the last few years, businesses have increasingly moved to virtual interviews, even for local candidates. Expect this to increase. You may have several interviews before being asked to meet in person. Make sure that you prepare for virtual interviews just as you would for in-person meetings.
If you're scheduled for a virtual interview, make sure you are somewhere quiet. If it's over the phone, make sure you have good cell service. If you're scheduled for Skype test your camera, microphone, internet connection well before the interview.
Despite ongoing concerns about the coronavirus and the changes that will bring your job search doesn't need to come to a halt. Begin with a plan. Use this basic plan as a starting point and adjust as needed.
Looking for a new job doesn't need to be a 24/7 occupation. But you do need to work smart. Periodically evaluate your plan. Continue activities that are working for you and eliminate those that are not. Always stay open to trying new things. Stay healthy. And don't give up.