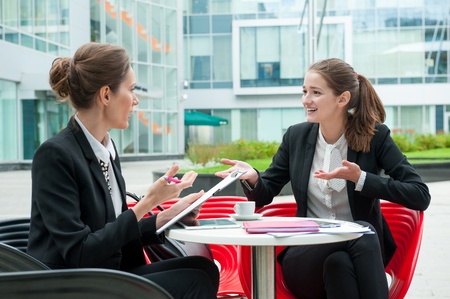 Job Interviews Aren't All About You
Don't get ahead of yourself in a job interview. Ask questions, yes. But don't make it all about you.
In some respects, an initial job interview is like a first date. Each person wants to get to know the one a bit. Does she have a sense of humor? Does he share your love of football? Or maybe your enthusiasm for bird watching?
You're in the learning about each other stage.
The conversation ebbs and flows, with questions on both sides.
You're not asking how much the other person makes or if her parents are divorced. It's way too early in the relationship for questions like that.
The same principles apply to the interview process.
During job interviews both sides should be gathering information. Recruiters and employers want to know 1) if you can do the job and 2) if you'll fit in with the team, department, and company.
You should have questions too.
What are the challenges you'll face? How will you be judged in terms of success? Why is this position open? Does the staff go out to lunch together?
The answers to questions like these can help you determine if this job is right for you. Come up with a list of questions before each interview.
While you need to understand as much as you can, you also need to make sure you don't move too fast.
Screening calls. Phone interviews. Initial face-to-face meetings are not the right time to inquire what the employer can do for you.
Yes, you need to evaluate the job, your potential boss, and the company. However, your goal should be to move forward in the process.  Get an in-person meeting. Get a 2nd interview. And eventually, get an offer.
Questions concerning salary, health benefits, paid time off, tuition reimbursement, telecommuting opportunities, etc. should be asked during the negotiating process.
This helps you 2 ways.
First, employers are interested in how you can help them solve their problems. They are turned off by candidates who seem to be primarily interested in what the company can do for them.
Second, once they want you, have extended an offer, you are in a better bargaining position. Requests for a higher salary and work-from-home Fridays will meet less resistance coming from someone they want to hire than from a candidate they just met.
Before beginning your job search make a list of your criteria. Determine the salary you want. Decide what benefits are important to you.
Remember that the interview process should be a two-way street. It's just as important for you to evaluate if the opportunity is right for you, as it is for the employer to decide if you're right for them.
Just make sure you don't make it all about you on the first date.
For 10 Questions to Ask before accepting an offer click here.