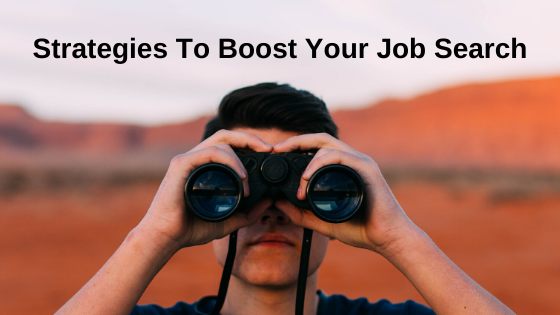 10 Strategies That Will Boost Your Job Search Success
These are extraordinarily difficult times. Unemployment is climbing. People on furlough wonder if they'll be returning to work.  Shutdowns across the country make it challenging to look for a job.
Despite everything, this is not the time to stop looking for a new job. The job market has changed dramatically, but jobs are still out there. Employers are hiring. There are steps you can take to move your job search forward.
Here are 10 job search strategies that work. But reading this list isn't enough. You need to act. You can't do all of them today, but you can get started.
#1 Make a list of your target employers, companies where you would most like to work. Set up Google alerts to help you follow them in the news. Start contacting family, friends, former colleagues, etc. to see if they know anyone who works for one, or more, of your top employers.
#2 Research your target employers online. Review their websites to find out what, if any, jobs are available now. Many company sites have bios of those in leadership roles. Look for info on potential interviewers. Read the company's mission statement.
#3 Set up a way to keep track of the positions you've applied for and the companies you've contacted. A simple excel spreadsheet can help avoid confusion and possibly embarrassment when someone from HR calls about your application. It will also help you from applying more than once for the same job.
#4 Update your resume to convey your value. Studies show that recruiters and hiring managers quickly scan resumes to decide it the candidate is a yes or a no. Differentiate yourself by focusing on skills and achievements, the impact you've had on your employers. Use action verbs for impact.
#5 Complete your LinkedIn profile. Fill out your professional experience, volunteer work, any courses you've taken, etc. Use your LinkedIn profile to provide insight into who you are as well as what you do. Why did you choose your career? What makes you so good at your job? Stories make you memorable.
#6 Don't raise red flags with inconsistencies. Your resume and LinkedIn profile shouldn't be carbon copies. However, you need to avoid inconsistencies in job titles, dates of employment, etc. Do make sure to tell your career story on your LinkedIn profile, particularly in the About section.
#7 Know everything on your resume cold. If you claim that you increased sales 23%, be prepared to explain how you did that. That goes for your LinkedIn profile and other social media platforms. If your resume pique's the interest of recruiters or employers, they will be checking you out online.
#8 Get ready for interviews by preparing responses to common questions like "tell me about yourself" and "what is your greatest weakness" to avoid rambling. When employers ask you to tell them about you, they don't want your life story; they want information relevant to the job.
#9 Check your devices before virtual interviews. Make sure you have good cell phone reception. Before video interviews, make sure your camera and microphone are working and that you have an uncluttered background. Record and review yourself answering common interview questions.
#10 Always remember that job interviews should go both ways. You should be evaluating the employer and the position to see if they are a good fit for you. While the first interview isn't the time to ask about vacation days, do make sure to learn as much as you can about the job and company culture