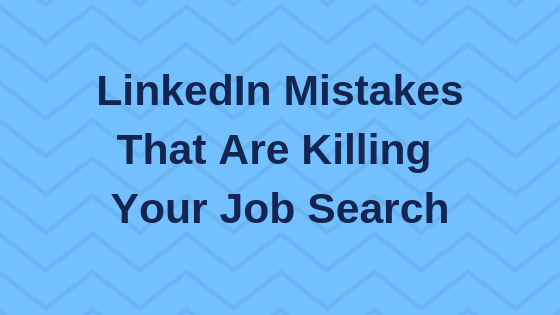 Are You Wasting Your LinkedIn Profile's Potential?
If you are looking for a new job having a robust LinkedIn profile is essential. Full stop. Sadly, most don't use LinkedIn to their best advantage.
It's not just the barely completed "skeleton" profiles still displaying LinkedIn's generic blue background that make career professionals cringe. It's the misguided things people do deliberately.
#1 Quotes in the Headline
A lot of people seem to think that having an inspirational quote as their headline will somehow help them. It won't for a few reasons. First, recruiters search LinkedIn based on jobs, skills, etc. and it's unlikely inspirational quotes include "skill" words like "performance improvement " or "business development."
Second, recruiters want to know if you're qualified for the job they are trying to fill. If you do come up in a recruiter's search but your headline doesn't indicate your qualifications, they may go on to the next profile in their search.
If you feel a quote expresses your philosophy, management style, etc. by all means use it in the Summary section.
#2 Looking for Opportunities in the Headline
Putting "looking for opportunities" in LinkedIn's headline doesn't work either. Same two reasons as above. And third, the phrase looking for opportunities is vague. What type of opportunity?
This is a bad idea, but if you are wedded to it at least be specific about what you're looking for. I wrote an entire post about it, to read it click here.
#3 Focused on the Employer
Your LinkedIn profile should be about you not your employer. Yet, many people fill their summary AND the job descriptions with information about what their employer does. If you're lucky, the information about your employer will have key words that raise you in a recruiter's search.
Sadly, a resume devoted to your employer won't give recruiters a reason to contact you. Also, it's probably incredibly boring.
#4 No Contact Information
Always make it easy for recruiters and hiring managers to contact you.  A lot of job seekers think that recruiters who want to contact them will use InMail. That depends.
If you are the perfect candidate, the illusive "purple squirrel, they will go to great lengths to contact you. On the other hand, if you are a maybe, they may not bother. They only get so many InMails a month and want to use them wisely.
Make it easy for people to contact you by putting your email address in your LinkedIn summary. If you are unemployed or opening looking, put a call to action along with your email. If you are conducting a confidential job search, put an innocuous phrase like "Always interested in connecting with colleagues . . ." along with your email address. Make it easy for recruiters to say yes to you.
#5 Bad Photos
Although both are considered social media, don't confuse LinkedIn with Facebook. Photos of you with your partner, spouse, child, pet, etc. don't belong on LinkedIn. Neither do obvious group photos that usually look weird when cropped. Particularly, if your photo shows someone's arm over your shoulder. Read this for more bad photo choices.
If you can afford to hire a professional photographer that's great. If not, a smartphone photo of you in professional attire, preferably smiling, should be fine. Run a few photos through photofeeler to get some objective opinions.
While LinkedIn profiles have different constraints than resumes, there are consideration. Resumes need to be attractive, easy-to-scan, 2-page documents that are packed with value.  Resume writers write tight to save space.
LinkedIn has character limitations. For that reason, it's essential not to waste space. LinkedIn also needs to be searchable. A "skeleton" profile with a Headline that reads "looking for opportunities" is unlikely to come up high in a recruiter's search. Make sure each section of your LinkedIn profile works for you.