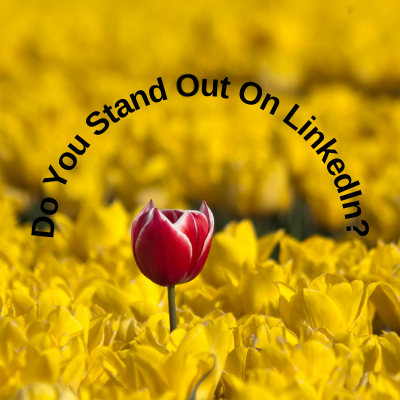 5 Ways To Radically Improve Your Chances On LinkedIn
Sadly, LinkedIn is something many people neglect. They put in their job histories. They may even put a few sentences in their summary before considering it good to go.
Huge mistake.
Today, a robust, optimized LinkedIn profile that makes you stand out is essential to a successful job search.
If you have a skeleton profile with companies, job titles, a default headline and little else it's unlikely that you'll even be noticed in a recruiter's search. Your profile may be 679 in a search that delivers 724 results.
Even if a recruiter, does plow through all 724 profiles, if a recruiter doesn't see anything compelling he or she is unlikely to contact you. Today, hiring managers are looking at your profile too, so it really needs to pop.
Here are 5 ways to radically improve your chances of standing out on LinkedIn.
#1 Have A Photo
Many people shy away from putting a photo on their profile. Some fear discrimination. Others don't like photos of themselves. I fall into the former. However, the upside of having a headshot far outweighs any potential downsides.
LinkedIn profiles with photos get 21X more views and 9X more connection requests. according to LinkedIn. On the other hand, if you don't have a profile photo people wonder why. They wonder if you are hiding something.
Having a professionally taken, probably photo-shopped, photo is nice to have they can be pricey. A headshot of you wearing business attire and preferably smiling is all you really need. My husband took mine in my office.
Don't forget, with LinkedIn's updated interface you need a background photo too.
#2 Use Your Headline
Unless you specifically change it, your headline defaults to your current position. Your LinkedIn headline is called a headline for a reason. It should be used to highlight your professional brand.
Your headline should give readers an idea of who you are and what you can offer an employer.
You may want to include a few of your skills and maybe a tagline that represents your brand. Here are a few examples taken from LinkedIn.
Multichannel Marketer | Customer Acquisition | Digital Marketing | Social Media | Brand Awareness | Events
CEO | Growth Strategies | Team Leadership | Revenue Growth | Turning struggling businesses into vital market leaders
SEO Audits | SEO Site Analysis | SEO Training | Audience Development | Email Marketing
Never waste your LinkedIn real estate with by using Looking for new opportunities as your headline.
#3 Write A Compelling About Section 
If they use their About section at all, most people have a few lines that reads like a bio. That's not the best use of the summary section. While LinkedIn is a place to show your career history and talk about your achievements, it's meant to be more personal than a resume.
Use your LinkedIn About section to tell your career story. Go beyond what you do and talk about why you do it. Why did you go into your current field? What excites you about it? Include a few of your proudest accomplishments or biggest wins.
LinkedIn's character allotment for the summary section is 2600 characters. Use them.
#4 Include Contact Information
When recruiters are sourcing candidates on LinkedIn, profiles fall into 3 categories: yes, let me contact them, maybe, and no. While LinkedIn provides the option of using InMail to contact people who are not connections, it's not used as widely as you think.
First, even with a premium account, InMails are limited. Second, they are notorious for getting poor results. If you look like the perfect candidate a recruiter may take the time to research you online and find another way to contact you. If you fall into the maybe list, they may not.
Make it easy for recruiters and hiring managers to contact you by including contact information in your About section.
#5 Make It Pop
Use the Featured section to make your LinkedIn profile stand out. You might want to include JPEGs or PNGs of certifications, articles of interest to your connections, PDFs of white papers, etc.
To help readers learn more about you put a link to a video resume on YouTube or a link to your personal website. Look at what LinkedIn supports and choose what's right for you.
Finally, don't put your LinkedIn profile up and forget it. Keep your profile active by posting status updates and liking and sharing other people's posts. This keeps you top-of-mind with your connections and shows you are engaged with the platform.